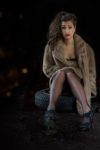 F***ing Outside the Box
em Studio at The Vault Festival
Preço desde € 15.80
F***ing Outside The Box tells the story of 17 year old Frankie as she attempts to act out a Sex and the City-inspired rape-fantasy role play, with an acquaintance she met at a party. Frankie is desperate to be sexually adventurous and desired, but can she deal with the realities of this increasingly dark encounter?
Informação sobre o local
Informação sobre o espectáculo
Reserva de
2014-02-18
Reserva até
2014-02-22
Duração:
1 hour
Instruções

Leave Waterloo via Exit 1. Turn right onto Station Road Approach & keep on the right hand side. Walk to the bottom of the road & down the first set of stairs. Turn right at the bottom & the entrance is 10m on the right hand side.

Mapa