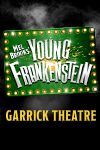 Young Frankenstein
em Garrick Theatre
Preço desde € 27.30
O lendário director e comediante Mel Brooks traz sua clássica e monstruosa comédia musical, Young Frankenstein, à vida nos palcos. Uma versão completamente dançante e cantante, em parceria com a diretora da Broadway e coreógrafa vencedora do Tony Awards, Susan Stroman.
Destaques desta reserve online:
- Descubra Young Frankenstein
- Aproveite esta comédia musical em directo nos palcos
- Escolha os assentos de sua preferência
Young Frankenstein
Neto do infame Victor Frankenstein, o Dr. Frederick Frankenstein (pronuncia-se 'Fronk-en-steen') herda o castelo na Transilvânia e realiza o que se espera do neto do tão famoso doutor, ao trazer um corpo de volta a vida.
Com auxílio e dificuldades impostas por seu fiel súbdito Igor, de sua incrível assistente Inga e sua carente noiva Elizabeth, o experimento dele provoca um baita sucesso e consequências verdadeiramente monstruosas.
Como é feito o envio dos bilhetes?
Logo após completar a reserva, o voucher é enviado por e-mail. Pedimos a gentileza de levar uma cópia impressa deste documento ao teatro.
Young Frankenstein - revisões
"An evening of gloriously impure fun"
The Guardian
---
"Bodice-bustingly bawdy"
Daily Mail
---
"This is a wonderful night out, frequently reaching that all too rare comic plateau where it becomes literally impossible to stop laughing"
What's On Stage
---
"A comic tour-de-force for the entire cast"
London Theatre
---
"Hadley Fraser is wild-eyed and tirelessly exuberant as Frankenstein"
Evening Standard
---
"Monster of a show that promises howls of laughter"
The Times
---
Informação sobre o local
Informação sobre o espectáculo
Reserva de
2018-08-24
Reserva até
2018-08-25
Duração:
2hr 20min (interval included)
Localização

É possível chegar ao teatro com as linhas Northern (preta) ou Piccadilly (azul escura) do metrô, até a estação de Leicester Square. Escolha a saída para Charing Cross Road, o teatro se encontra a 2 minutos da estação a pé.

Mapa