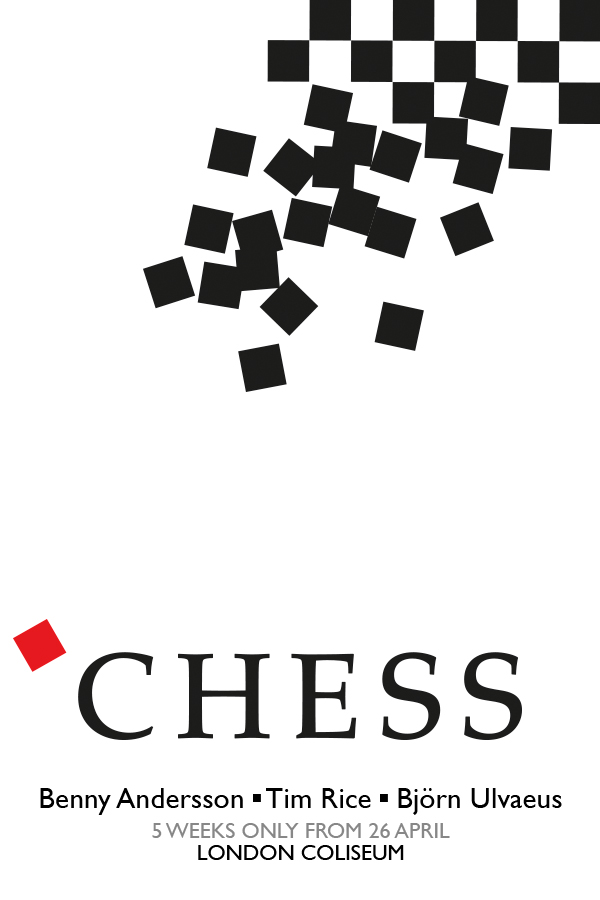 Chess
em London Coliseum
Preço desde € 101.00
Dois dos maiores mestres de xadrex do mundo, um Americano e um Russo, correm o risco de tornarem-se peões de seus governos quando sua batalha pelo campeonato mundial torna-se a arena.

Destaques desta reserva online:
- Viva este musical mundialmente famoso, Chess
- Aproveite a banda-sonora com ABBA
- Escolha seus assentos

Descubra o teatro musical Chess
As vidas de dois jogadores de xadrez tornam-se ainda mais confusas com uma refugiada húngara, uma incrível mulher que se torna o centro de um triângulo amoroso. Esta disputa reflete a força de paixões políticas e desavenças que ameaçam destruir amores e histórias.

Inclui os grandes sucessos 'I Know Him So Well' e 'One Night In Bangkok'. Outros grandes hits da trilha sonora incluem 'Anthem', 'Someone Else's Story', 'Heaven Help my Heart' e 'Pity The Child'.

Como recebo meus bilhetes?
Logo após completar sua reserva, receberá um voucher em seu endereço de e-mail. Pedimos a gentileza de imprimir este documento e levá-lo consigo ao teatro.
Informação sobre o local
Informação sobre o espectáculo
Reserva de
2018-05-23
Reserva até
2018-06-02
Duração:

Localização

(3mins) Take Cranbourn Street until St Martin's Lane, where you head right until you reach the theatre.

Mapa