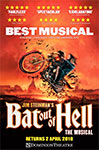 Bat Out of Hell The Musical
em Dominion Theatre
Preço desde € 78.00
A épica fantasia teatral de rock'n'roll de Jim Steinman, Bat Out of Hell - o musical, explode nos palcos do Dominion Theatre em abril de 2018.
Destaques desta reserva online:
- Divirta-se com Bat Out of Hell - o musical, em Londres
- Garanta seus bilhetes para este aclamado musical
- Obtenha os melhores assentos disponíveis na casa
- Aproveite esta incrível fantasia teatral em um musical cheio de rock'n'roll
- Ouça 17 dos principais hits de Meat Loaf
Aproveite Bat Out of Hell - o musical
Una-se ao eternamente jovem Strat e sua gangue selvagem, The Lost, enquanto eles tomam as ruas de Obsidian, numa Manhattan pós-apocalíptica e governada pelo perverso e tirânico Falco.
Quando Strat vê pela primeira vez a filha de Falco, Raven, que foi trancafiada nas torres do palácio, ele parte para resgatá-la das garras de seu excêntrico pai. A história é marcada por paixões adolescentes, rebeldia juvenil e sonhos em rock'n'roll.
Bat Out of Hell é um musical de tirar o fôlego que conta com 17 dos principais hits de Meat Loaf, incluíndo "I'd do anything for love", "Paradise by the dashboard light", "You took the words right out of my mouth (Hot summer night)", "Dead ringer for love", "Two out of three ain't bad", "Bat out of hell" e mais.
Como é feito o envio dos tickets?
Logo após a confirmação da reserva, o voucher é enviado por e-mail. Pedimos a gentileza de imprimir este documento e levá-lo consigo ao teatro.
Bat Out of Hell The Musical - revisões
"I CAN'T REMEMBER WHEN I LAST SAW A STANDING OVATION AT THE INTERVAL"
The Sunday Times
---
"IT'S LOUD, EXHILARATING AND BLOWS YOUR SOCKS OFF"
The Independent
---
"A NIGHT THAT WILL MAKE YOUR JAW DROP, YOUR HEART SOAR AND HAVE YOU SINGING ALONG"
WhatsOnStage
---
"HELLISHLY HARD TO RESIST"
The Daily Telegraph
---
Informação sobre o local
Informação sobre o espectáculo
Reserva de
2018-12-21
Reserva até
2019-01-05
Duração:

Localização

Tottenham Court Road Station, exit Tottenham Court Road (Central / Northern Line)

Mapa