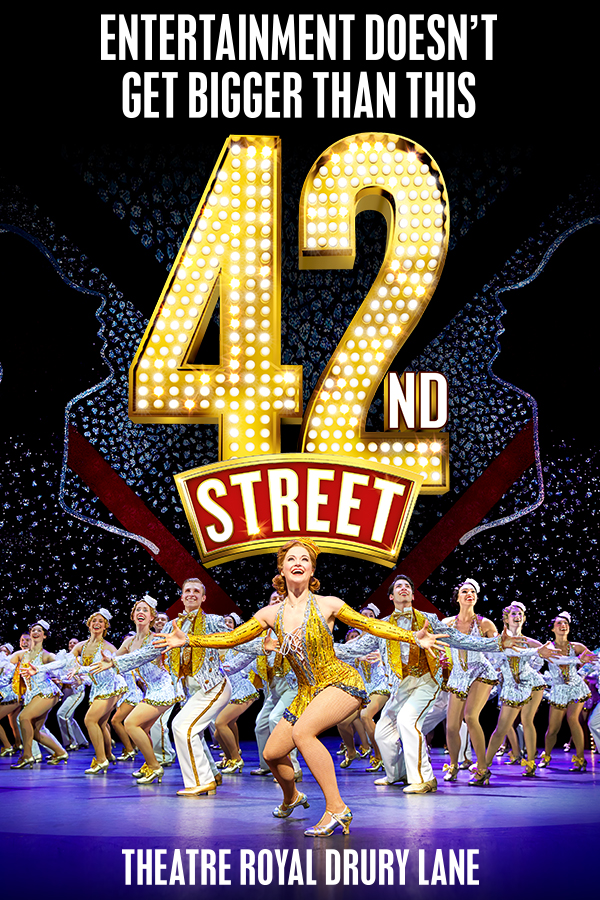 42nd Street
em Theatre Royal Drury Lane
Preço desde € 27.20
Descubra o maior show da Broadway no maior palco do West End de Londres! O sucesso musical 42nd Street é a fábula do Sonho Americano em sua versão cantada e dançada, directamente dos palcos da Broadway.
Destaques desta reserva online:
- Aproveite o clássico 42nd Street
- Escolhe seus assentos
- Delicie-se com as músicas que marcaram época
O maior show da Broadway no maior palco do West End
42nd Street é a história da jovem e sonhadora dançarina Peggy Sawyer. Ela acaba de desembarcar do autocarro vindo de sua cidade-natal, America, e tornou-se apenas mais uma face no coro do mais novo show da Broadway, Pretty Lady.
Quando a atriz principal sofre um acidente, Peggy enxerga a oportunidade que estava esperando para lançar-se ao estrelato e alcançar seus sonhos.

Esta produção super aguardada de 42nd Street chega a Londres em sua versão totalmente musical e com elenco formado por mais de 50 atores para o maior palco do West End, o Theatre Royal Drury Lane.
E, claro, o show conta com seus maiores sucessos como 'We're In The Money', 'Lullaby of Broadway', Shuffle Off To Buffalo', 'Dames', 'I Only Have Eyes For You' e '42nd Street'.
Como é feito o envio dos bilhetes?
Logo após completar a reserva, o voucher é enviado por e-mail. Pedimos a gentileza de levar uma cópia impressa deste documento ao teatro.
Quem é a equipa por detrás do show?
Mark Bramble, o co-autor do livro da peça original na Broadway e da produção no West End de 42nd Street e diretor da premiada versão de 2001 de 42nd Street, é o diretor desta novíssima produção no West End.
42nd Street - revisões
"The mother of all showbiz musicals"
The Telegraph
---
"Utterly moreish extravaganza of glitz"
The Times
---
"Blow your mind with spectacle"
Metro
---
"It roars where others purr"
The Stage
---
"A golden spectacle of showbiz glamour"
Time Out
---
Informação sobre o local
Informação sobre o espectáculo
Reserva de
2019-01-02
Reserva até
2019-01-05
Duração:
2 horas e 30 minutos (com um intervalo)
Localização

Estação de metrô mais próxima: Covent Garden ou Holborn, a entrada do teatro está localizada na Catherine Street.

Mapa