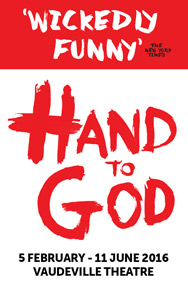 Hand To God
em Vaudeville Theatre
Preço de € 28.70
Um pai falecido, uma família bagunçada, uma garotinha que só quer ajudar, um bully do colégio que encontra seu jeito de fazer as coisas, um homem da igreja oferecendo apoio, e um fantoche que está completamente fora de controle - ele é imprevisível, perigoso e não faz prisioneiros.
Destaques desta reserva online:
- Garanta seus ingressos para Hand to God
- Escolha os assentos de sua preferência
- Vivencie "o encontro da Vila Sésamo com Os Exorcistas"
Hand to God
As portas do inferno se abrem no Vaudeville Theatre com a chegada desta comédia hilariante e provovatica diretamente da Broadway, onde foi descrita como "Loucamente engraçada" pelo New York Times e "o encontro da Vila Sésamo com Os Exorcistas" pelo New Yorker.
Reserve agora suas entradas para a peça mais empolgante a sair dos EUA este ano, estrelando Janie Dee, Neil Pearson, Harry Melling, Jemima Rooper e Kevin Mains.
Uma mão esquerda pode ser algo perigoso...
Como é feito o envio dos tickets?
Logo após a conclusão da reserva, o mesmo será enviado por e-mail. Pedimos a gentileza de levar uma cópia impressa do voucher ao teatro.
Hand To God - revisões
"Theatre for the YouTube generation Really - freakish, silly … it's getting my thumbs up It keeps gathering in lunatic intensity until you surrender to its madcap charms"
Daily Telegraph
---
"Full of insight and laughter … socks it to the audience Puppet sex… once seen….It's never forgotten The crowd went wild"
The Times
---
"Terrific cast. Hand To God includes the most raunchy, not to mention protracted, puppet sex scene the West End has ever witnessed."
Evening Standard
---
"Amazing cast, filthy humour and a possessed puppet. What's not to love? Highly recommended."
The Sun
---
"Hand To God finds great hope in new writing… the West End has been looking for something new to love – and we might have just found it."
Gay Times
---
"The funniest and filthiest puppet glove punch-up I've ever seen Avenue Q meet Book of Mormon, with elements of The Exorcist"
WhatsOnStage.com
---
Informação sobre o local
Informação sobre o espectáculo
Reserva de
2016-04-29
Reserva até
2016-04-30
Duração:
2 hours
Instruções

(5mins) Head out onto the main road Strand. Cross street where possible and go right 100 metres – it's just after the Adelphi Theatre.

Mapa