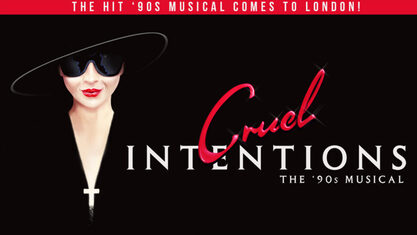 Bilhetes para

:
Cruel Intentions: The '90s Musical
2
Bilhetes

,

Qui, 11 Jan 2024
Cruel Intentions: The '90s Musical
Este produto foi recém adicionado - já é possível reserva-lo e as informações estarão disponíveis em português em breve!
Sebastian and Katyhryn are a deadly step-sibling duo who use their wealth, manipulation, and sexual prowess to get what they want. In a cruel bet, Kathryn convinces Sebastian to attempt to seduce the headmaster's daughter Annette, a virtuous girl who aims to remain celibate until marriage. Weaving a web of temptation, deceit and secrecy, the pair hatch a plan to destroy the innocent girl, along with anyone who dares to get in their way.
Aceitam-se bilhetes no telemóvel
Localização
The Other Palace
Endereço
12 Palace St, Westminster London SW1E 5JA
Helpdesk em inglês

308 802 603
Precisa de ajuda? Entra em contacto connosco!