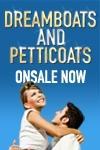 Dreamboats and Petticoats
em Wyndham's Theatre
Preço desde € 86.80
"Dreamboats and Petticoats", em Londres, é uma digressão que mostra a força da fabulosa música dos anos 60! Compre aqui bilhetes para "Dreamboats and Petticoats"!

"Dreamboats and Petticoats" transporta-o para uma época dos anos 60 em que todas as semanas havia mais uma música clássica. Com músicas de Roy Orbison, The Shadows, Eddie Cochran, Billy Fury, Chuck Berry e muitos mais.

Com as músicas de sucesso "Lets Dance", "To Know Him Is To Love Him", "Shaking All Over", "In Dreams", "Bobby's Girl", "Three Steps To Heaven", "Little Town Flirt", "Only Sixteen", "Almost Grown", "Sleepwalk", "Runaround Sue", "The Locomotion", "Happy Birthday Sweet 16", "What A Wonderful World", "Half Way To Paradise", "Will You Still Love Me Tomorrow", "Let's Twist Again" e muitos mais êxitos da era dourada da música!
"Um bom espetáculo que nos diverte e nos faz lembrar a música dos nossos tempos. Gostei muito."

Maria Estarreja
Dreamboats and Petticoats - revisões
"This lovely show brings the memories flooding back."
The Daily Telegraph
---
"Dreamboats is a nostalgia feast aimed at an audience that listens to Brian Matthew's Sounds of the Sixties on Radio 2 and remembers daring to go and see Alfred Hitchcock's Psycho"
The Independent
---
Informação sobre o local
Informação sobre o espectáculo
Noites
Monday to Saturday 7.30pm
Tardes
Thursday 3pm, Saturday 4pm
Reserva de
2012-10-16
Reserva até
2013-01-19
Duração:
2 hours 10 minutes
Instruções

Leicester Square Station (Piccadilly/Northern Line)

Mapa