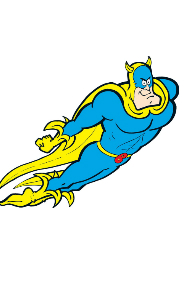 Bananaman
em Southwark Playhouse
Preço desde € 21.80
The funniest and most accident-prone superhero ever to grace the skies is making his live action debut in an all-singing, all-flying must-see new musical this December at Southwark Playhouse! Bananaman, the Man-of-Peel may have a jaw line you can see from space, but this superhero has the muscles of 20 men and the brain of 20 mussels. Which isn't much. With supervillains Doctor Gloom and General Blight attempting world domination, who can we call? Superman's on holiday, Spiderman's not picking up – our only option, our very, very last option is... Bananaman. With a useless hero and some equally clueless villains, Bananaman's riotously funny, slapstick humour has been sealed into the memories of those who saw him on TV, and will now spark the imagination of a new bunch of Bananafans. It won't be long before we all peel the power of Bananaman!
Informação sobre o local
Informação sobre o espectáculo
Reserva de
2018-01-12
Reserva até
2018-01-14
Duração:

Localização

<strong>Borough: </strong>Exit &amp; turn right towards Newington Causeway. Located just before the railway bridge.<strong>&nbsp;Elephant &amp; Castle:</strong> Exit via South Bank University Exit &amp;&nbsp;turn left, head up Newington Causeway.

Mapa