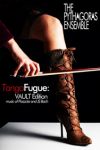 TangoFugue: Vault Edition
em The Cage at The Vault Festival
Preço de € 34.50
TangoFugue brings together the Fugues of Johann Sebastian Bach and Tangos by Astor Piazzolla, exploring the subtle nuances and explosive nature of these two worlds. Johann Sebastian Bach is considered the master of the Fugue and Piazzolla is widely acknowledged as the father of Tango Nuevo. Come see how the master and the father get on together!
Informação sobre o local
Informação sobre o espectáculo
Reserva de
2014-02-15
Reserva até
2014-02-15
Duração:
1 hour 30 minutes
Instruções

Leave Waterloo Station via Exit 1. Turn right onto Station Road Approach and keep on the right hand side of the road. Walk all the way to the bottom of the road and go down the first set of stairs you come to and turn right at the bottom of the stairs.

Mapa