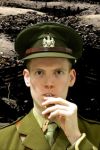 For the Trumpets Shall Sound
em 563 NOT IN USE
Preço desde € 17.30
Ruth is clearing out her Mother's attic, with the help of her son Jamie, when they make an interesting discovery; a box containing photographs, letters, a diary and even an old army officer's tunic that belonged to Ruth's grandfather. Persuaded by Jamie, Ruth begins to read her grandfather's diary. immediately she finds herself immersed in the landscape of France during the Great War where she follows her grandfather as he meets her grandmother and falls in love. However, it seems that there is a third person in this story, one who has been kept secret, until now.
Informação sobre o local
Informação sobre o espectáculo
Reserva de
2014-02-22
Reserva até
2014-02-22
Duração:
1 Hour 15 Minutes
Instruções

Leave Waterloo Station via Exit 1. Turn right onto Station Road Approach and keep on the right hand side of the road. Walk all the way to the bottom of the road and go down the first set of stairs you come to and turn right at the bottom of the stairs.

Mapa