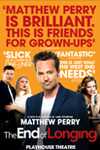 The End Of Longing
em Playhouse Theatre
Preço de € 32.00
Matthew Perry, o ator aclamado internacionalmente por Friends e The Odd Couple, é a estrela do elenco na estreia global da peça The End of Longing, escrita pelo próprio Matthew, no Playhouse Theatre em Londres, de 02/02 a 14/05/2016.
Destaques desta reserva online:
- Garanta seus ingressos para The End of Longing
- Escolha os assentos de sua preferência
- Peça escrita pelo próprio Matthew Perry
Descubra The End of Longing, pelo Próprio Matthew Perry
Conheça Jack, Stephanie, Joseph e Stevie: quatro almas perdidas chegando aos 40 e tentando encontrar o significado da vida. Depois de uma noite ensurdecedora juntos em um bar no centro de Los Angeles, suas vidas se tornam ligadas de forma irreversível e embarcam uma montanha-russa de altos e baixos que os força a enfrentar os lados mais obscuros de seus relacionamentos.
Esta peça tem um ritmo elevado, de ar tragicômico e com direção da premiada Lindsay Posner (Speed-the-Plow, Other Desert Cities), reunindo o casal nos palcos novamente desde sua primeira parceria no West End com Sexual Perversity in Chicago, de 2003.
Uma comédia inteligente e afiada, com lados obscuros. The End of Longing o fará entender que pessoas arrasadas não precisam permanecer desta forma.
Como é feito o envio dos tickets?
Logo após a conclusão da reserva, o mesmo será enviado por e-mail. Pedimos a gentileza de levar uma cópia impressa do voucher ao teatro.
The End Of Longing - revisões
"'Consistently funny and often laugh-out loud'"
The Times
---
"'Wired, raw and very funny. Superb performances'"
Whatsonstage.com
---
"'Like watching a re-write of Noel Coward's Private Lives strained through Patrick Marber's more flamboyantly explicit Closer'"
Whatsonstage.com
---
"'Matthew Perry's debut play is smart, stylist and sexy. This is just what the West End needs.'"
The Spectator
---
"'Lindsay Posner's production is as slick as a Chandler one-liner'"
Metro
---
"'Funny, sharp and intelligent'"
Gay Times
---
"'Matthew Perry's writing might not be at complete perfection, but it works. It's fresh and it presents a great new grasp that younger audience members can enjoy'"
Gay Times
---
"'Sharp wisecracks delivered with aplomb under Lindsay Posner's slick direction"
Sunday Express
---
"'Tremendously moving'"
Daily Express
---
Informação sobre o local
Informação sobre o espectáculo
Reserva de
2016-05-13
Reserva até
2016-05-14
Duração:

Instruções

Embankment Station, exit Northumberland Road (Nothern/Bakerloo/District/Circle Line)

Mapa