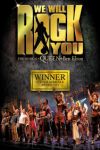 We Will Rock You
em Dominion Theatre
Preço de € 39.80
"We Will Rock You" em Londres é um musical que contém os maiores êxitos dos Queen. Compre aqui os seus bilhetes para "We Will Rock You"!

O musical dos Queen irá deslumbrá-lo e deixá-lo a implorar por mais!

O musical dos Queen "'We Will Rock You" é um musical espectacular. É um sucesso de teatro garantido, já que contém 31 dos maiores êxitos dos Queen.

Em "We Will Rock You", a globalização está quase concluída e penetra cada camada da sociedade. Por todo o lado, os jovens vêem os mesmos filmes, usam as mesmas roupas e pensam da mesma forma. É um mundo "Ga Ga" seguro e feliz. A não ser que seja um rebelde. A não ser que queira abanar o capacete.

A história de "We Will Rock You" decorre no planeta Mall, onde todos os instrumentos musicais são proibidos. Os computadores da empresa geram a música e todas as pessoas a descarregam. É a era das bandas só de rapazes ou raparigas. Mas um movimento de resistência ergue-se...

"We Will Rock You" inclui nada menos do que 31 dos maiores êxitos dos Queen, incluindo "Killer Queen", "Crazy Little Thing Called Love", "We Are The Champions", "Bohemian Rhapsody", "Radio Ga Ga" e, obviamente, "We Will Rock You".

Passará certamente uma noite esplêndida na companhia de "We Will Rock You" e quase podemos garantir, com toda a certeza, de que ficará ansioso por repetir, uma e outra vez...

Um Sonho – Uma Visão – Um Êxito de Bilheteira!
17
Fantástico
4.7
Reviews from 17 customer reviews
We will rock you
Musical maravilhoso... Amei. Cantam muito... Queen eterno
We Will Rocy You = Explendid , Amazing
I recomend every my friends and all people in general to see this fantastic show.
Congratulations to all actors.
Minha filha de 5 anos adorou
Muito bom as musicas sao bem interpretadas e o palco e muito colorido e dinamico.

Site muito confiavel com pessoas competentes vale a pena comprar deles e assitir ao show para todas idades
Levem as crianças!!!!!
Levei minha filha de 5 anos e ela Amou!!!!
Vale a pena ir mesmo com seus filhos pequenos
História ruim mas palco e musicas excelentes bem adaptações e cantadas
Recomendo a todos
forte emotivo e com muito bom desempenho
muito bom
ADOREI!!!!!!!
Adorei a sala, o espetáculo... tudo. Uma história muito bem conseguida que nos faz pensar, com uma selecção fantástica de musicas dos Queen e os actores... muito muito bons. Recomendo vivamente.
Superprodução fantástica!
Excelente musical, excelente atores, sabem interpretar e cantar muito bem. Impressionou do início ao fim, a cada instante uma surpresa e tudo muito lindo. Todos os atores foram muito bem.
Marcelos
Montagem profissional, excelentes músicos e bons atores. Um enredo que, numa mistura temática romântico-político-social sem muitas pretensões, se beneficia das composições do Queen e nos leva a reviver grandes sucessos. Acho que faltou um pouco de espontaneidade ao elenco, muito preso a marcações, passando, por vezes, a sensação de estarmos diante de uma encenação mecânica. Isso não chega a prejudicar o resultado final do musical, no conjunto, muito bom. Valeu a pena!

Excellent theatre. Professional assembly, excellent musicians and good actors. A plot that, in a mixture themed romantic-political-social without many pretensions, takes benefit from the compositions of Queen and leads us to relive great successes. I think there lacked a bit of spontaneity to the cast, very stuck on markings, passing, sometimes, the feeling of being in front of a mechanic performance. Nothing that could prejudice the final outcome of the musical, on the whole, very good. It was worth it!
Mrs. Silvia
Bárbaro! Recomendo o musical a todos aqueles que ouvem ou ouviram algum dia o Queen.
Mrs
I loved it! Queen is one of the best banda ever and this tribute was worth.
"Miss"
Gostamos muito o tempo do espetaculo passou num apice. Boas interpretações, boa escolha dos Hits dos Queen...recomendamos certamente
Carlos Mateus
Fantastic performance and excellent value. Great actors and singers. Sometimes I almost could hear Freddy Mercury singing!!
Great job.
My family and I, we give the best congratulations for the show and to the performers.
Carlos
Teresa
Absolutamente espectacular!
Armando
Maravilhoso, vale a pena.
MARAVILHOSO, ESPECTACULAR
UM ESPECTACULO A NÂO PERDER E SE POSSÌVEL A REPETIR
execente.
Foi Maravilhoso,e o serviço de voçês foi fantástico.Obrigado e voltarei a usar-los.
"O musical foi excelente, os cantores tinham ótimas vozes."
Rosa, Cascais
"3 horas de pura delícia. Imperdível!"
Eduarda, Porto
We Will Rock You Revisões
"There was wild applause at the climax of the show. and it only got louder"
The Daily Telegraph
---
We Will Rock You Pressrelease
WE WILL ROCK YOU TO CLOSE AT LONDON'S DOMINION THEATRE AFTER A VICTORIOUS 12 YEAR REIGN Storming into its tenth year as one of the West End's most successful shows, Queen & Ben Elton's We ...


Ler mais
Informação sobre o local
Informação sobre o espectáculo
Noites
Monday to Saturday 7:30pm
Tardes
Wednesday and Saturday 2:30pm
Reserva de
2014-04-23
Reserva até
2014-05-31
Duração:
2 hours 45 minutes
Instruções
Instruções
Tottenham Court Road Station, exit Tottenham Court Road (Central / Northern Line)

Veja mapa