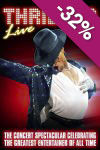 Thriller Live
em Lyric Theatre
Preço de € 33.20
"Thriller - Live" é "moonwalking" no West End de Londres. Compre aqui bilhetes para "Thriller - Live", em Londres!

Verdadeiro "moonwalking" em palco no West End de Londres, "Thriller - Live" celebra a música do indiscutível Rei da Pop - Michael Jackson e dos Jackson 5.

"Thriller - Live" é o primeiro desempenho teatral e extravagância musical de Michael Jackson. Para dar vida em palco à sensacional dança e som característico dos seus grandes êxitos, "Thriller - Live" inclui efeitos multimédia espectaculares e uma coreografia estonteante.

A carreira de Michael Jackson durou mais de 40 anos e vendeu mais de 750 milhões de CD's por todo o mundo. O álbum "Thriller" continua a ser o álbum mais vendido de sempre.

"Thriller - Live" vale a pena ver, quer seja ou não um grande fã de Michael Jackson. Não conseguirá resistir a cantar ao som de êxitos estrondosos, tais como "I Want You Back", "I'll Be There", "Show You The Way To Go", "Can You Feel It", "Rock With You", "She's Out Of My Life", "Beat It", "Billie Jean", "Earth Song" e, obviamente, "Thriller", assim como muitas mais!
6
Fantástico
4.2
Reviews from 6 customer reviews
Muito bom
Trata-se de um tributo a Michael Jackson. Os artistas são fãs do astro com certeza. As performances são surpreendentes, em especial as da segunda parte do espetáculo.
Recomendo vivamente
Melhor espetaculo que vi ao longo destes anos. Quem tiver oportnidade de ir ver o espetaculo nao se vai arrepender, mesmo que para isso tenha que abrir os cordoes a bolsa. 5*****
Momentos Inesquecíveis
Depois de um dia repleto de passeios maravilhosos e uma overdose de cultura nada melhor que um musical repleto de emoção!!! Pontualidade britânica em um ambiente agradável e alegre!!! Valeu a pena!! Recomendo!!
Claudia
Acho que os atores deveriam ter-se travestido de Michael, pois é também o seu personagem, não apenas as músicas, que nos chamam atenção. Que fossem necessários mais de um ator/atriz para representar Michael, tudo bem, mas não gostei de vê-los, gostaria de ter visto mais "Michael Jackson".
Sr
Muito bom mesmo.....recomendo muito.
Andre
Filipa
Recomendo!Fiquei com vontade de voltar logo no dia seguinte. Os cantores e bailarinos são excelentes! Sem dúvida um espectáculo contagiante a não perder!
"O espetaculo foi excelente, superou minhas expectativas, vale a pena assistir!"

Daniela, Belo Horizonte

"Um dos melhores musicais do ano ja vistos em Londres. 35 atores fieis ao estilo, cancoes e danca de Michael Jacskon, alem de uma historia contada de forma emocionante. Simplesmente fantastico!"
Paulo, Sao Paulo
Thriller Live Revisões
"Dance routines, featuring daring leaps from an on-stage bridge, break-dancing, and, yes, the moonwalk, are spectacular."
The Daily Telegraph
---
Informação sobre o local
Informação sobre o espectáculo
Noites
Tuesday to Friday 7.30pm, Saturday 8pm, Sunday at 7.30pm
Tardes
Saturday 4pm, Sunday 3.30pm
Reserva de
2014-04-23
Reserva até
2015-04-19
Duração:
2 hours 20 minutes
Instruções
Instruções
Piccadilly Circus, exit Shaftesbury Avenue (Bakerloo/Piccadilly Line)

Veja mapa