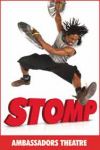 Stomp
em Ambassadors Theatre
Preço de € 28.30
"Stomp", em Londres, é um espectáculo de passagem obrigatória. "Stomp" são 100 minutos de energia pura e autêntica. Compre aqui bilhetes para "Stomp", em Londres - com desconto!

Ritmo contagiante e pura energia! Sinta o ritmo! "Stomp" não é um musical tradicional, mas mais um espectáculo.

"Stomp" serve-se de tudo, desde lixo, botas velhas, isqueiros, bancas de cozinha, vassouras, ou seja, tudo o que puder ser usado para criar o ritmo louco e bem conhecido de "STOMP". Não irá acreditar até ter visto, ouvido e sentido "Stomp".

"Stomp" é um sucesso garantido e tem sempre 2 espectáculos em digressão nos Estados Unidos e na Europa. Já foi exibido em mais de 40 países. "Stomp" tem apenas de ser sentido - não explicado!
2
Fantástico
5.0
Reviews from 2 customer reviews
Fantástico
Realmente um dos melhores musicais que assisti. Realmente a precisão e a dificuldade impressiona.
adoramos
Adoramos o espectaculo. O som, a animacao e a simpatia para com o publico é excelente. So tivemos pena de ficarmos na parte de baixo do teatro e nao conseguirmos ver tudo.
"Stompe, um grande show. Recomendo vivamente. Ótima relação preço qualidade. O Teatro é pequeno mas com uma ótima visibilidade. Recomendo vivamente a localização."
Joao, Damaia
Stomp Revisões
"Entrancing, Exhilarating. Terrific"
The Independent
---
"Pure Stage Magic"
Sunday Telegraph
---
"This unique percussion and dance show has evolved over the last 11 years from humble street theatre in Brighton into a worldwide, multimedia sensation"
The Stage
---
Informação sobre o local
Informação sobre o espectáculo
Noites
Monday, Thursday, Friday and Saturday 8pm
Tardes
Thursday and Saturday, 3pm, Sunday 3pm and 6pm.
Reserva de
2014-04-24
Reserva até
2014-12-21
Duração:
1 hour 40 minutes
Instruções
Instruções
Leicester Square Station (Piccadilly/Northern Line)

Veja mapa