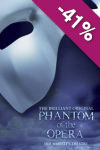 Phantom of the Opera
em Her Majesty's Theatre
Preço de € 44.20
"Phantom of the Opera" (O Fantasma da Ópera), em Londres, é o mais famoso dos musicais. "Phantom of the Opera" é a obra-prima de Andrew Lloyd Webber. Compre aqui bilhetes para "Phantom of the Opera".

A extravagância musical de Andrew Lloyd Webber!

"Phantom of the Opera" é o mais famoso dos musicais. A obra-prima de Andrew Lloyd Webber tem estado em exibição em Londres há mais de 20 anos. Pode comprar aqui bilhetes para o musical "Phantom of the Opera".

Baseado no thriller clássico francês sobre uma personagem aterradora e lendária que emerge das profundezas da "The Paris Opera House" e revela o mítico fantasma da ópera numa realidade aterradora. Com alguns dos cenários, guarda-roupa e efeitos especiais mais sumptuosos alguma vez criados para um palco, "Phantom of the Opera" é um fenómeno musical.
26
Fantástico
4.7
Reviews from 26 customer reviews
Arte e profissionalismo.
Encenação esplendorosa. Interpretações principais muito acima da média.
Poeta
Foi uma oportunidade para rever esta peça, desta vez com a minha família. É sempre um momento único, de deslumbramento. Simplesmente espectacular. Boas interpretações e um desempenho maravilhoso.
Fantástico
Por muitas palavras que tente exprimir acho que nenhuma consegue explicar o quão fantástico e maravilhoso é este espectaculo.. recomendo sem sombras de dúvida nenhuma.
De salientar também a eficiência e confiança do site.. Se alguma vez voltar a londres sem dúvida que quero ir ver outro espectaculo!
Espetáculo
Fantástico, maravilhoso e espectacular.
Não há o que se criticar. Maravilhoso!!!
Maravilhoso!
Fabuloso
Espetáculo lindo, envolvente, emocional, excepcionalmente representado/cantado ( mm sem a nossa Sofia).
Phantom of Opera.
O musical foi excelente recomendo vivamente, convem reservar previamente.
Phantom of the Opera
Sem duvida um espectaculo digno de se ver e rever.
Parabens a todos os actors pela brilhante actuação.
Fantástico
O espectáculo é fenomenal, absolutamente fantástico, para quem pense ir a Londres, não deixe de ver este musical. Quanto á facilidade de marcação pelo site, correu tudo bem conforme previsto, muito simples e fácil de usar, no teatro foi igualmente simples, todo o pessoal muito simpático, uma experiência que vale a pena repetir, obrigado.
Excelente!!
Excelente!!!!
Soberbo. O melhor espetáculo que já vi.
Simplesmente perfeito, comovente, lindo, surpreendente. Se tiver chance, sem dúvida vou ver novamente. Os cenários, os figurinos, a atuação de cada um e de todos contribuem para que levemos do que assistimos um tesouro em nossa mente, o qual nos acompanhará para sempre. Obrigada.
Wonderful
The show was just wonderful.. Actors amazing and the play fantastic!!
o melhor espetaculo que vi até hoje, a repetir!
envolvente e arrebatador!
Fantástico!!!
Foi como um sonho sendo realizado!! Produção e efeitos fantásticos ... Atores incríveis!!!
Reserva via web fantástica. a melhor maneira de reservar.
Espetáculo muito bom.
Fomos tratados de forma correta e profissional
Teatro fantástico, cantores excepcionais, muito bom!!
João Bosco
Bem, é a terceira vez que o vejo. Duas em NY e essa 3ª em Londres. Agradeçol por terem colaborado de maneira eficaz e eficiente para que eu tenha podido ter mais essa magnífica experiência.
Mais uma vez muito obrigado
Caordialmente
João Bosco
Sra.
Sensibilidade que gera muita, mas muita emoção ! Imperdível !
Estavamos alto de mais.
O espectaculo é muito bom!
Mr. Bertoli
Como sempre o Fantasma foi sensacional! Must see!
Paula
Excelentes interpretações de todos os actores/cantores, em especial os 3 protagonistas. Amazing voice de Lara Martins!
Magnificos cenários, coreografia e a música é sempre boa ou não fosse do ALW...
Correu tudo muito bem recomendo esta forma de adquiri bilhetes para este musical que foi maravilhoso,obrigda.
Criticar esta musicais
It was amazing!
It was an amazing night for both me and my fiancée. The show was unbelievably organized, the singers/actors are very talented. It is an unmissable opportunity if you are travelling to London!
Fernando Lyra
Sensacional, imperdível. Dos musicais vistos em Londres este ano, foi realmente o que mais espera e todas as expectativas se confirmaram. Espero poder rever Phantom of the Opera em outra oportunidade.
"Realmente o Phantom of The Opera é sensacional,sem nenhum problema na hora de pega o ingresso no teatro.Estão de parabéns o LondresMusicais.com pode confiar."

Belmino, Caruaru-Pernambuco
"Maravilhoso, inesquecível, só assistindo para avaliar!" Ana Maria, Ribeirão Preto "O espetaculo foi lindo, maravilhoso, emocionante e ficara na nossa memoria para sempre (celma, angela, marianna e juliana). Os atores são maravilhosos. Parabéns e obrigada por presentear o publico com esse espetaculo maravilhoso."

Celma, Rio Verde
"Espetáculo sensacional! Recomendo a todos!"

Thalissa, Cuiabá

"Muito sensancional. Imbatível."
Sandro, Brasília
"Um espectáculo fantástico. Recomendo a todos os que possam, que o vão ver. Excelentes vozes e efeitos especiais durante a actuação."
Susana, Seixal
"Gostei muito do espectáculo que tentava ver há 2o anos. Também apreciei muito o vosso serviço que recomendarei."

Maria, Lisboa
Phantom of the Opera Revisões
"Soaring ballads and sensational stage effects."
The Daily Telegraph
---
Phantom of the Opera Pressrelease
MAJOR CAST CHANGES IN THE SMASH HIT ANDREW LLOYD WEBBER MUSICAL "THE PHANTOM OF THE OPERA" AT HER MAJESTY'S THEATRE IN LONDON! EARL CARPENTER TO RETURN TO THE ROLE OF 'THE PHANTOM' FROM MONDAY 12 ...


Ler mais
Informação sobre o local
Informação sobre o espectáculo
Noites
Monday to Saturday 7.30pm
Tardes
Thursday and Saturday 2.30pm
Reserva de
2014-04-23
Reserva até
2015-04-25
Duração:
2 hours 30 minutes
Instruções
Instruções
(5mins) Go along Coventry Street and then take Haymarket on the right where the theatre will be approx. 200 metres along.

Veja mapa