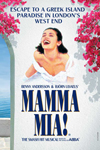 Mamma Mia! Until 1st September
em Prince of Wales Theatre
Preço de € 67.10
"Mamma Mia" em Londres com músicas dos ABBA. Compre aqui os seus bilhetes para "Mamma Mia" no Prince of Wales Theatre, em Londres.

As eternas músicas dos ABBA contam uma história de amor, alegria e amizade "Mamma Mia" é um musical londrino fenomenal e grande sucesso de bilheteira.

Enquanto os ABBA fornecem a música, nós fornecemos-lhe grandes bilhetes para ver o "Mamma Mia" no Prince of Wales Theatre.

Mais de 45 milhões de pessoas - em mais de 175 cidades por todo o mundo - se apaixonaram pelas personagens, pela história e, por último, mas não menos importante, pela música inesquecível dos ABBA que faz do espectáculo "Mamma Mia" o melhor "musical popular que dispõe bem"!

A história divertida e brilhante da argumentista Catherine Johnson decorre numa ilha grega paradisíaca. A busca de uma jovem para descobrir a identidade do pai na noite do seu casamento provoca o regresso à ilha de três homens do passado da sua mãe, a qual já não viam há 20 anos.

A pura magia de contar uma história de amor, alegria e amizade através das músicas eternas dos ABBA é simplesmente genial e, noite após noite, todos se divertem!

"Mamma Mia" contém 27 das músicas mais famosas dos, incluindo "Dancing Queen", "Knowing Me Knowing You", "Super Trouper" e "Mamma Mia!" "Mamma Mia" figura em mais casas de espectáculo internacionais do que qualquer outro musical, sendo considerado o principal musical do mundo.

"Mamma Mia" é agora mais popular do que nunca, desde que o filme "Mamma Mia - The Movie" estreou no Verão de 2008 - Mamma Mia é simplesmente uma longa e contínua história de sucesso!

NB: From SEPTEMBER 2012 MAMMA MIA! will move to NEVELLO THEATRE. Tickets from Sep. 2012 can be booked HERE!
Mamma Mia! Until 1st September - revisões
"A GLORIOUS EVENING OF FUN!"
Daily Mail
---
"AN IRRESISTIBLY ENJOYABLE HIT! SHEER HEAVEN!"
Daily Telegraph
---
"INFECTIOUS THEATRICAL ENTERTAINMENT!"
Financial Times
---
Mamma Mia! Until 1st September Pressrelease
Night after night, audiences are having the time of their lives at MAMMA MIA!. Catherine Johnson's sunny, funny story of love, laughter and friendship has been thrilling London audiences for over 10 years. More recently ...


Ler mais
Informação sobre o local
Informação sobre o espectáculo
Noites
Monday to Thursday and Saturday 7:30pm - Friday 8:30pm
Tardes
Friday 5pm and Saturday 3pm
Reserva até
2012-09-01
Duração:
2 hours 45 minutes
Instruções

Piccadilly Circus (Bakerloo, Piccadilly Line)

Mapa